Let's say that you take very good care of your body. You clearly realize that a well-functioning body should not be an objective but rather a tool to achieve self-realization in life. So how to protect your body and the investments you have made to make it stronger when your job requires you to sit all day? How to protect yourself against the degenerative environment that we see everywhere around us? One innovative solution that brings about a fundamental cultural change is NESEDA chair.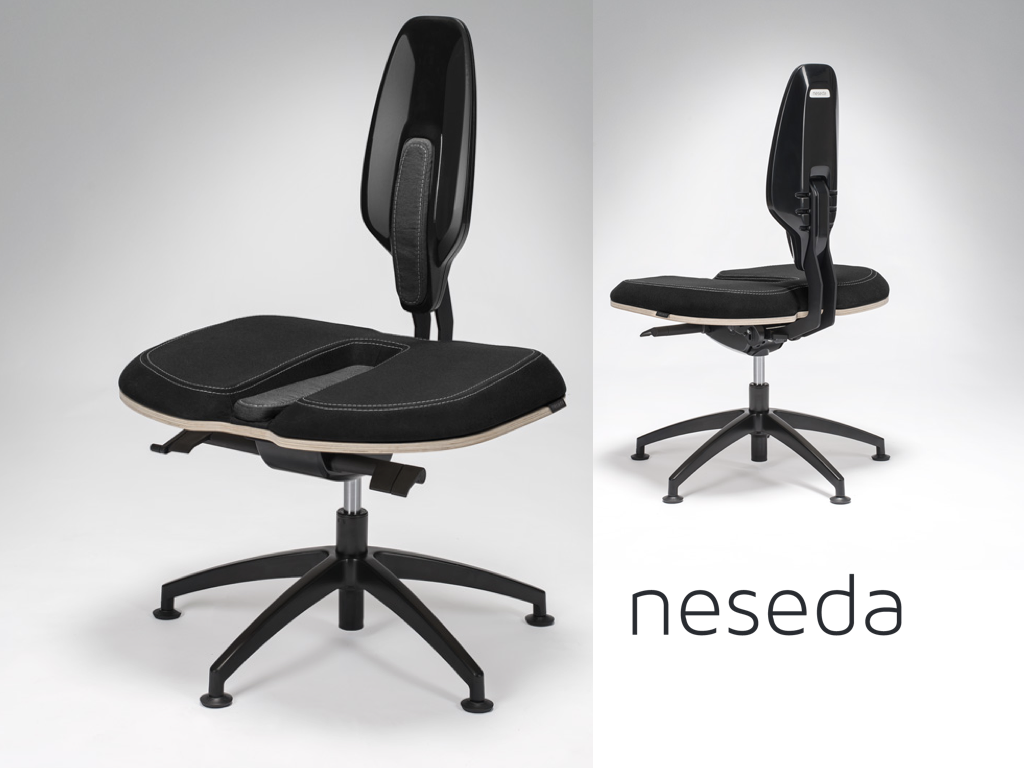 WORK ENVIRONMENT AND CULTURE OF NOURISHING MOVEMENT THROUGH (NON-)SITTING
How to keep moving at work without spending any extra time? One of the options is to build a small gym with pull-up bars, rings or parallel bars at home or at work. By doing so, you can dedicate 30-60 minutes of your working time to a small workout with no need to warm up. You just simply pass by your home-made gym and seize the opportunity. And that is because you understand that not even five hard-core trainings per week will balance out the price that your body has to pay for sitting all day in the same geometry. The second way to protect your body is to buy a special chair called NESEDA, which allows you to switch between various "nourishing" sitting positions every 30-60 minutes to allow your body to move naturally. And finally, the third option is to combine the first two options.
SITTING ALL DAY AND MOVEMENT OPTIONS WITH NESEDA CHAIR
We simply have to sit and work. Today's era and the nature of our work responsibilities require it. We sit at work, in the car, at home, at school, in the restaurant and the position in which we sit has dramatic impact on us and creates our geometry. 
Some parts of your body become flabby, others become shortened. When we spend most of our days sitting, our bodies adapt themselves to the sitting position. We become better and better at sitting. Some people are champions of sitting. And then, if they change their sitting position, they get into temporary trouble. Their body perceives the new position as highly uncomfortable, disturbing, it may even cause pain or muscle soreness. However, this will change for the better and people who see their body as a tool might even appreciate it.
If you don't want to harm your body, moving at work is not an option, it's an obligation. Your body needs its dose of "maintenance" movement to keep its fundamental functions and abilities going. If we don't accept this, we will have to bear the consequences of various sorts. Therefore, combining movement at work with work itself is the only way out of this situation:
Work may be ennobling, but also dangerous to your health
Work may pay the bills, but also degenerate your body
What we perceive as normal might not automatically be good and healthy for our bodies
The price we pay for sitting all day cannot be balanced out by 5 hard-core trainings per week
No sitting position is not good or bad, it is just neutral
The only bad sitting or standing position is the one which we stay in for longer than 60 minutes
Two years after the initial idea (draft) through development, investment of time, money and knowledge, and thanks to Michal Truban nd the designer team from Werkemotion, the project saw the light of the day. Since then, new members have joined our team, for example Michal Duchoň (CEO)and Dominika Krupová. Over the past few months, you could become one of our first clients who will help us lay the groundwork for a new nourishing movement culture in our country. Watch our official NESEDA trailer:
NESEDA CHAIR SUPPORTS CREATIVE PEOPLE
If you like to be creative or need to figure something out, you don't sit glued to your chair in a strictly ergonomic position recommended by some standards. Quite the opposite. You move around, walk around, fidget, switch between various positions, because the flow of your thoughts forces you to do so. However, if you want to fully focus on one thing, you need a comfortable position with no disruptions. NESEDA chair allows you to do both, as its design is adapted to switching between positions. To see how to fully use the chair's potential, please watch our video tutorial:
On average, we spend eight hours per day sleeping and eight hours sitting, so we should think about every detail that has significant impact on our lives during the 16 hours of our day (two thirds of our life). Notice how you sleep and what you sleep on, how you sit and what you sit on, analyse what you can do to improve your health and stop the body from degenerating. This is the way how you can protect your investments that you have made in your body outside work (movement, diet, habits).
BY CHANGING YOUR ENVIRONMENT, YOU CHANGE YOUR CHOICES, HABITS AND CONSEQUENTLY, YOUR BODY
If your office is equipped with comfortable and ergonomic chairs that allow you to sit in the same geometry for even longer than usual, if there are comfortable couches, you don't have to stand up for hours. However, if there is a pull-up bar, rings, parallel bars, NESEDA chair or anything that lures you to move when you pass by, you will naturally start moving more. Remember when you were a child and naturally used all objects around you to move? The environment you live in plays a fundamental role in your life and the choices you make. Imagine how you would act if you were surrounded by crisps, sweet drinks and TV. However, if you opt for healthier choices and an active lifestyle, your habits and your body will naturally change. This is how you can help us spread the culture of nourishing movement in our country.
If you start with NESEDA, your teammates will definitely be intrigued and together with them, you can create incentives for a major change in your work environment. And we will keep our fingers crossed. We are moving at work, just like you.